| Last Updated at
---
Advertisement
1. Co-pilot Deliberately Crashed Germanwings Plane
he co-pilot of the Germanwings passenger jet that crashed in the French Alps this week made a "deliberate attempt to destroy the aircraft," a French prosecutor said.
Marseilles prosecutor Brice Robin said Thursday the co-pilot, 28-year-old Andreas Lubitz, locked the pilot out of the cockpit, leaving himself alone in control of the Airbus A320.
He added the co-pilot, a German national, crashed the plane "for a reason we cannot fathom right now."
2. Arvind Kejriwal caught abusing Yogendra Yadav
Aam Aadmi Party (AAP) chief and Delhi Chief Minister Arvind Kejriwal was again at the receiving end of a sting operation in which he is heard purportedly using expletives against dissident leaders Yogendra Yadav and Prashant Bhushan and even threatening to form a new party.
TV channels aired the conversation purportedly between Kejriwal and one Umesh Singh, a party worker, in which the AAP chief loses his cool and tells the worker to better go and work with Yadav and Bhushan.
3. Narendra Modi to launch Rs 20,000 crore MUDRA Bank
Prime Minister Narendra Modi will launch on April 8 the Rs 20,000 crore MUDRA Bank, an agency to refinance micro-finance institutions which will also act as regulator for the sector.
The MUDRA (Micro Units Development and Refinance Agency) Bank, which was announced by Finance Minister Arun Jaitley in his Budget speech, is expected to benefit about 5.77 crore small business units.
"MUDRA Bank will refinance Micro-Finance Institutions through a Pradhan Mantri Mudra Yojana," Jaitley had announced.
4. Former Prime Minister Atal Bihari Vajpayee Receives Bharat Ratna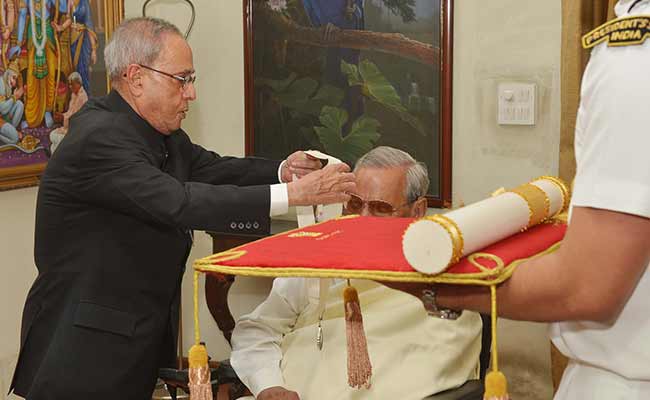 Former Prime Minister Atal Bihari Vajpayee received the country's highest civilian honour, the Bharat Ratna, at his home.
He became the first non-Congress Prime Minister to serve a full five-year term - from 1998 to 2004 -and earned recognition for his ability to hold together a complex coalition.
Among his boldest initiatives was the historic bus journey to Lahore in 1999, when he signed the landmark Lahore Declaration with Prime Minister Nawaz Sharif, with both sides pledging to push for peace and security.
Save as Pdf :

Subscribe Now - Get Daily Updates - GK Quiz - Exam Notifications !
Tags :
bankers adda daily gk update of march 28 2015,bankers adda 2015 march 28rd updates,current affair on date 28 March,bankers adda 28 march 2015 daily gk update,bankers adda gk update mar 28 2015,march 2015 Gk update,bankersaddamarch 28 2015,bankers adda 28 march 2015,www bankers adda com gk update 28 march 2015,28 march daily gk update,bankersaddadailyg k update 28 march 2015, daily gk 28 march 2015,28 march 2015 bankers adda,www 28/3/15 bankers adda com,daily gk update 28 march 2015