CBN丨China pledged to ensure power supply during summer peak period
您的浏览器不支持音频播放。
Hi everyone. I'm Stephanie LI.
大家好,我是主持人李莹亮。
Coming up on today's program.
重点提要
The NEA vowed not to cut power during the summer peak season as heat wave persists;
HKMA raises interest rate by 75 basis points after Fed hike.
Here's what you need to know about China in the past 24 hours
中国经济要闻
China's energy regulator vowed on Wednesday to ensure power supply and said it would not cut power during peak usage periods in summer.
The National Energy Administration (NEA) will firmly hold the bottom line of not cutting power, and will resolutely ensure electricity for people's livelihoods, He Yang, an official from the NEA said on Wednesday.
Despite the recent heatwave and the power requirements reaching new highs, the national power supply and demand is still stable, He said.
Amid the rebound in China's economy and the high temperatures seen globally in recent weeks, China's electricity consumption has been growing rapidly. From July 12 to 15, power use across the country repeatedly hit new highs. On July 15, the highest power load reached 1.26 billion kilowatts, and the daily power generation reached 28.5 billion kilowatt-hours, according to the NEA.
The NEA expected China's power consumption to climb further, as a sustained heat wave lingered across most parts of the country since the start of July. From July 11, one-third of the country has been hit with readings above 35 degrees C, including North China, the majority of Northwest China, eastern parts of Southwest China, and East and Central China.
The energy regulator is promoting the construction of major power projects, and new power sources with a total capacity of 70 million kilowatts were put into production nationwide in the first half of this year. Since summer last year, 180 million kilowatts of new power sources have been put into production nationwide.
Meanwhile, green energy's share of the total consumed in China will increase at an average annual rate of 1 percentage point over the next eight years, the NEA said, helping the country reach its targets for carbon neutrality by 2060.
Non-fossil energy's share of China's overall energy use rose 0.7 point to 16.6 percent last year, Zhang Jianhua, director of the NEA, said at a press conference on Wednesday.
Annual power production from green energy sources reached 2.5 trillion kilowatt-hours, accounting for about 30 percent of all electricity used in the country, Zhang said.
全国高温持续,多地迎来用电高峰,如何保障供电成为社会关注焦点。
7月27日下午,国新办举行新闻发布会。国家能源局有关负责人介绍,尽管近期出现了历史罕见的高温天气,电力负荷也都创出了新高,但全国的电力供需还是平稳有序的。在这种夏季高峰用电的时候,采取适当的错避峰措施是必要的,但是我们会坚决守住不拉闸的底线,坚决确保民生用电。
国家能源局电力司司长何洋表示,目前,已经进入7月下旬8月上旬的用电负荷高峰期,预计全国用电负荷会持续攀升,但目前我国电力供需平稳有序。
进入7月份以来,随着我国经济的增长和气温比去年同期偏高,特别是全球大范围出现了持续性的高温天气,我国的电力消费和电力负荷也在较快增长。7月12日至7月15日,全国电力负荷屡创新高,在7月15日,最高电力负荷达到了12.6亿千瓦,当日发电量达到285亿千瓦时。
今年以来,国家能源局提前着手,制定了多项强有力措施,全力以赴做好迎峰度夏的各项保障工作。今年上半年,全国新投产的各类电源合计7000万千瓦。自去年迎峰度夏以来,全国新增投产各类电源1.8亿千瓦。何洋表示,这些电源和电网项目的投产,有效增强了电力保供能力,也大大增强了应对迎峰度夏的保供底气。
此外,在清洁能源发展方面,国家能源局局长章建华在发布会上表示,在去年全球能源供应紧张、欧洲多国重启煤电的形势下,我国非化石能源发展保持力度不减,占能源消费总量比重提高了0.7个百分点,就是从15.9%提高到16.6%,保持了十八大以来的年平均增速。
章建华称,2021年我国可再生能源发电量达到2.49万亿千瓦时,占全社会用电量的29.9%,较2014年增长4.7个百分点。从现在到2030年,预计非化石能源消费比重将按平均每年1个百分点的速度持续增长,我们有能力也有信心实现2030年前碳达峰的目标。
China's Ministry of Public Security has dismantled 15 dens of swindlers and made over 170 arrests in eight provinces during a recently launched campaign to crackdown on two criminal gangs committing fraud targeting the elderly, according to the ministry on Thursday. The money involved in these cases is estimated to reach over 100 million yuan.
公安部打击涉养老诈骗收网:7月28日公安部消息,为深入推进夏季治安打击整治"百日行动",公安部近日组织指挥湖北、四川、河北、湖南、海南、云南、陕西、江西8省公安机关协同作战,对2个针对老年人实施诈骗的违法犯罪团伙开展集中收网行动,成功捣毁诈骗窝点15个,抓获违法犯罪嫌疑人170余名,初步核破涉及全国数百起案件,涉案金额逾亿元。
Moving on to regional highlights
区域观察
Shenzhen's economy shows a stable and positive growth in the first half of 2022 with total GDP standing at 1.5 trillion yuan, up 3 percent from the same period last year, according to data released by the southern manufacturing hub on Tuesday. Notably, the manufacturing and retail sales of high-tech products are booming, among which the output of new energy vehicles and charging piles jumped by 174 percent and 164 percent, respectively. As the city rolled out a 30-measure consumption stimulus package recently, retail sales in June hit a yearly new high by increasing 13 percent year-on-year, with car sales up by 36.2 percent.
深圳上半年GDP达1.5万亿:7月26日,深圳发布上半年GDP数据显示,深圳全市地区生产总值为15016.91亿元,同比增长3.0%,呈现稳中向好态势。值得一提的是,高技术产品产销两旺,其中新能源汽车、充电桩、5G智能手机、民用无人机产量分别增长了174.0%、164.0%、67.0%、28.8%。得益于深圳近期出台的"促消费30条"政策,6月份社会消费品零售总额同比增长13.0%,当月增速创今年新高。其中,汽车类增长36.2%,比5月份提升32.3个百分点。
Some 85 percent of exhibition areas has been reserved for the fifth China International Import Expo, kicking off in Shanghai in just 100 days, according to the organiser on Wednesday. The expo in Shanghai has attracted many Fortune Global 500 companies to join for the first time, more than 270 of them are industry leaders.
上海进博会倒数100日:7月27日,第五届中国国际进口博览会迎来开幕倒计时100天。目前,签约面积约占规划面积的85%,签约参展企业中,世界500强和行业龙头企业达270多家。
Next on industry and company news
产业及公司新闻
Zhengzhou in Henan Province, held a meeting with seven major real estate enterprises to help address their current difficulties, further ensuring house delivery, normal production as well as legal rights of home buyers, media learned from an involved firm on Wednesday. The enterprise said that during the meeting, the city's housing security and real estate administration gave preferential support for the seven property companies, including mergers and acquisitions, bankruptcy reorganization as well as secured housing leasing.
郑州开会助房企纾困:7月27日媒体消息称,郑州市政府组织市房管局、各区政府召开"7家重点企业(建业、鑫苑、世贸、康桥、绿地、正商、融创)在郑项目情况汇报"会议,主要汇报内容是结合市政府6月15日下发《郑州市房地产良性循环发展相关模式和建议》的文件通知,市房管局就7家重点企业项目的选择模式(棚改统贷统还、收并购、破产重组、保障性租赁住房模式)在会上向市政府、各区政府进行相关汇报。
Pony.ai and Chinese engineering giant Sany Heavy Truck are joining forces to produce driverless heavy-duty trucks and first deliveries should be ready before the end of the year, the Chinese self-driving tech startup said today. The pair will set up a joint venture for the research and development, production and sales of Level-4 unmanned heavy-duty trucks, which small-scale deliveries will begin this year and mass production in 2024, Pony.ai said.
小马智行与三一重卡合资打造自动驾驶重卡:7月28日,自动驾驶公司小马智行与国内领先重工企业三一集团旗下三一重卡宣布,双方将成立合资公司,开展L4自动驾驶重卡产品的研发、生产与销售,共同打造高端自动驾驶重卡品牌。合资公司计划将于2022年内开始小规模量产交付,2024年开始大规模量产。
Alibaba-backed fintech giant Ant Group established a new committee under its board to oversee risk management and consumer protection, the company said in a report Wednesday. The creation of the panel is a key step to enhancing corporate governance and strengthening the functioning of the board, Ant said.
蚂蚁集团增设风险管理委员会:7月27日,蚂蚁集团发布2022消费者权益保护半年报,报告显示,集团成立董事会风险管理与消费者权益保障委员会。该委员会为董事会下设的专门委员会,主要工作职责包括指导公司风险管理与消保工作的策略和目标拟定,结合公司治理、企业文化建设及经营发展战略,指导相关工作管理制度及体系建立与完善等。
Chinese steelmakers' profits continued to drop in June to 2.41 billion yuan, down 93.8 percent from the same month last year, data from the National Bureau of Statistics showed Wednesday. In the first six months, steelmakers' profit declined 68.7 percent from the same period a year ago, and revenue dropped 3.6 percent, the data showed.
钢铁业6月利润同比下降超九成:国家统计局7月27日公布数据,今年6月,黑色金属冶炼和压延加工业实现利润24.1亿元,同比下降93.8%。今年1-6月,黑色金属冶炼和压延加工业实现营业收入4.578万亿元,同比下降3.6%;实现利润总额826.1亿元,同比大幅下降68.7%。
China Fangda Group is not withdrawing from struggling Hainan Airlines Holding, which the Chinese chemicals and steel manufacturer took over in December last year, Fang Wei, its chairman said recently in response to rumours that it is planning to pull out soon. "We hope to solve Hainan Airlines' debt issues by bringing in more capital," Fang said, and start renting and purchasing planes in the second half.
方威回应方大退出海航传言:据媒体28日报道,在海航航空集团2022年中工作会议上,方大集团董事局主席方威对近日"方大要退出海航"的传言进行了直接的回应,表示不会退出海航。对于海航航空的高负债率如何解决,方威称希望通过引进资金、注入资金的方式,同时希望下半年可以陆续开始引进飞机。
Earnings reports express
财报速递
New Oriental Education & Technology Group Inc. on Wednesday reported a wider loss of $189 million in its fiscal fourth quarter, the Beijing-based company said late Wednesday. The educational services provider posted revenue of $524 million in the period, mainly due to the cessation of K-9 academic after-school tutoring services in compliance with the government policies in China. For the fiscal year 2022, New Oriental reported net revenues of $3.1 billion, representing a 27.4 percent decrease year over year, while net loss attributable stood at $1.18 billion.
新东方四季度营收跌超五成:27日晚间,新东方披露截至2022年5月31日第四季度及年度的未经审核财务业绩。财报显示,第四季度新东方净收入同比下降56.8%至5.24亿美元,归属于新东方的净亏损为1.89亿美元,同比扩大316.4%。2022财年净收入31.05亿美元,同比减少27.4%,净亏损约为11.88亿美元。由于终止了K-9学科课后辅导业务,新东方第四季度净营收同比下跌56.8%至5.24亿美元。
Switching gears to financial news
金融市场消息
The Hong Kong Monetary Authority on Thursday raised its base rate by 75 basis points to 2.75 percent, hours after the US Federal Reserve delivered a rate hike of the same margin. Speaking after the HKMA's rate hike, Financial Secretary Paul Chan Mo-po said as the United States begins its rate hiking cycle, interest rates in Hong Kong are expected to rise, increasing the financial burden for homebuyers. Hong Kong's interbank liquidity have halved to HK$165 billion in the past two months, as the city's de-facto central bank has bought a total HK$172 billion of local currency since May 11 to defend its currency.
香港金管局加息75个基点:7月28日,香港金管局将基准利率上调75个基点至2.75%,港元兑美元短线持稳。香港财政司司长陈茂波表示,美国连续两个月加息0.75厘,外围环境持续恶化,会拖累香港出口表现,影响本地消费情绪及投资信心。最新数据显示,金管局近三个月共买入1726.38亿港元,银行体系总结余因此降至1650亿港元附近,缩水超过一半。
Country Garden slumped 15 percent on Wednesday after the firm revealed plans to sell shares at a discount of 12.6 percent to Tuesday's closing price to raise a total of HK$2.83 billion. China's top developer by sales said some of the proceeds will be used to repay offshore debt, helping spur gains in the company's dollar bonds.
碧桂园拟配股融资28亿港元:7月27日凌晨,销售额居行业第一的碧桂园公告,拟配股8.7亿股,配股价3.25港元/股,融资约28.27亿港元。消息一出,该股全天放量大跌15%,报收于3.16港元,跌破了配售价。对于配售,碧桂园表示,募资可支持公司优化债务结构和资本结构,增加股权比例,在行业普遍受到挑战的时候继续降低自身的负债率;同时,可支持公司于境内外公开市场的债券回购,继续减少公司境内外的债务规模。
Wrapping up with a quick look at the stock market
股市收盘情况
Chinese stocks rose on Thursday, buoyed by low market rates in the country amid tightening monetary policies worldwide. By the market close, the Shanghai Composite edged up 0.21 percent and the Shenzhen Component closed 0.23 percent higher, with total turnover reaching 1 trillion yuan. Hong Kong stocks ended with losses as the benchmark Hang Seng fell 0.23 percent, while the TECH index added 0.35 percent.
周四A股冲高回落,成交额重回万亿。截止收盘,沪指涨0.21%,深成指涨0.23%,创业板指跌0.31%。两市成交额重上万亿元大关,较周三明显放大。板块方面,半导体、消费电子、OLED等板块涨幅居前,景点、机场航运、盐湖提锂等板块跌幅居前。港股恒生指数收跌0.23%,恒生科技指数收涨0.35%。
Biz Word of the Day
财经词汇划重点
Interbank liquidity refers to the availability of funding for borrowing (to meet short-term payment obligations) or lending (to temporarily dispose of surplus funds productively) in the interbank market.
银行同业流动资金指银行同业市场上可供借入(以应付短期支付义务)或借出(以具经济效益的方式暂时处理剩余资金)的资金。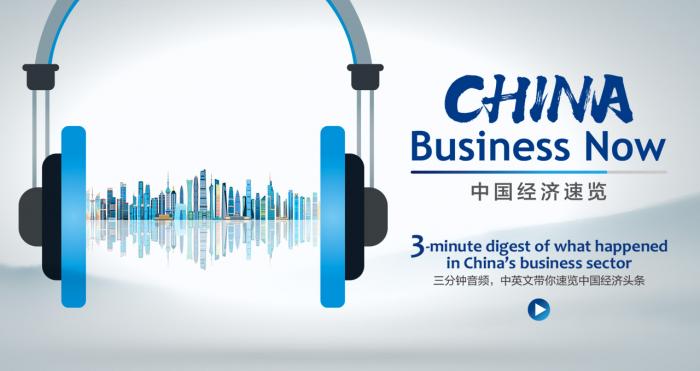 Executive Editor: Sonia YU
Editor: LI Yanxia
Host: Stephanie LI
Writer: Stephanie LI, JIA Yuxiao, ZENG Libin
Sound Editor: JIA Yuxiao
Graphic Designer: ZHENG Wenjing, LIAO Yuanni
Produced by 21st Century Business Herald Dept. of Overseas News.
Presented by SFC
编委: 于晓娜
策划、编辑:李艳霞
播音:李莹亮
撰稿:李莹亮、曾丽镔、贾雨逍
音频制作:贾雨逍
设计:郑文静、廖苑妮
21世纪经济报道海外部 制作
南方财经全媒体集团 出品