In a surprise move the government declared that ₹500 and ₹1000 notes will be illegal from Tuesday midnight.
In his address to the nation, Prime Minister Narendra Modi explained the move as the government's attack on black money.
These notes can be exchanged for lower denomination notes at post offices and banks from November 10 till the end of March 2017.
Black money worth Rs 1.25 lakh crore brought back to India .
India was earlier 100 on
global
ranking of corruption. Today it stands at 76th position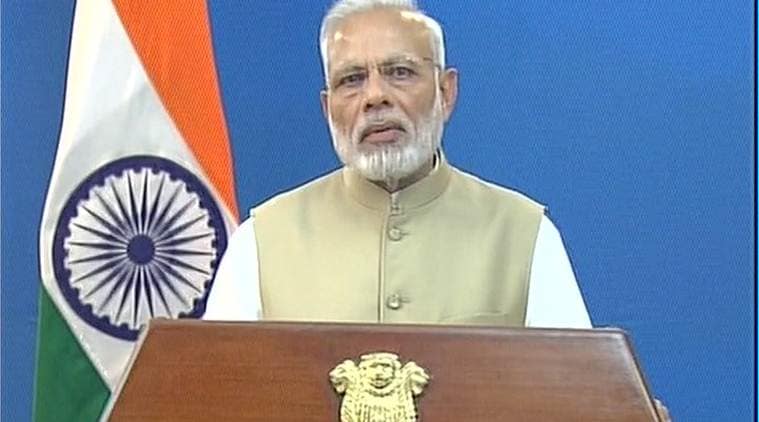 Prime Minister Narendra Modi (Source: Twitter/@ANI_news)
.Modi said the notes of Rs 500 and Rs 1000 "will not be legal tender from midnight tonight" and these will be "just worthless piece of paper." However, he said that all notes in lower denomination of Rs 100, Rs 50, Rs 20, Rs 10, Rs 5, Rs 2 and Re 1 and all coins will continue to be valid. He also announced that new notes of Rs 2000 and Rs 500 will be introduced.
Here are the Important Highlights/Points regarding Government Decision to Abolish 500 and Rs.1000 currency Notes :
Airport , Bus ticket Booking Counters to accept old notes till Nov 11

All Banks to Remain closed tomorrow

Daily Withdrawal Limit set @ Rs.2000 from ATMs

Government Hospitals to accept Rs.500 & Rs.1000 notes till Nov 11

Rs.500 , Rs.1000 currency no longer legal tenders

50 Day Window to exchange old Rs.500 and Rs.100 notes

RBI to issue new Rs.500 and Rs.2000 notes

Daily cash withdrawal from banks set @ Rs.10,000

Maximum cash withdrawal at Rs.25,000 in a fortnight
There will be no change in any other form of currency exchange be it cheque, DD, payment via credit or debit cards etc
Respite for people for the initial 72 hours, Govt hospitals will accept old Rs 500 and 1000 notes till 11 November midnight
Corruption and black money is something we have fought for immediately after assuming office .